We want to be your periodontist in Bay City, so we've designed our office to not only meet your oral health needs, but also your comfort needs. We are certain that when you walk in our doors, you'll immediately feel relaxed and at home. Our advanced technologies will ensure your comfort throughout your procedure, as well as the efficiency and effectiveness of the treatment you receive.
State-of-the-Art Technology
Dr. Picard and the Mid-Michigan team use the most up-to-date technologies and techniques to provide you with the highest quality periondontal care and dental implants.
Digital X-rays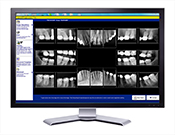 Digital X-rays are more comfortable than the sharp X-ray film of the past. Because they require no chemical processing, the images are available on our computer screen within seconds, meaning we can begin treatment faster than every before. Additionally, digital X-rays emit up to 90% less radiation than traditional X-rays, so they're safe for all patients.
Cone Beam CT Imaging
Cone beam CT stands for cone beam computed tomography. This type of imaging delivers detailed images of your entire mouth, including the root canals and nerves. The scans are taken in a quick, simple procedure where an X-ray machine moves around the patient's head to construct a 3D view. We use this revolutionary technology to precisely plan and perform a variety of dental procedures.
Advanced Bone Graft & Growth Factor Materials
We use bone morphogenetic protein 2, or BMP-2, to help prevent bone loss in the jaw after extractions, to stimulate the regeneration of bone prior to placing implants, and for sinus and ridge augmentations. BMP-2 is found naturally in the body and has a remarkable ability to heal bone. Using BMP-2 almost completely eliminates the need for bone graft harvesting from other parts of the body. We also use enamel matrix derivative, or EMD, to encourage regrowth of hard and soft tissues that surround teeth.
Piezosurgery
Piezosurgery allows us to cut bone without damaging the surrounding soft tissue, thanks to the system's ultrasonic micro-vibrations. With piezosurgery, Dr. Picard is able to perform ridge expansions, periodontal therapy, and implant site preparation with more accuracy and comfort and less damage to surrounding healthy tissue. Piezosurgery also typically results in faster healing time and less post-op pain and discomfort.
BIOLASE WaterLase Express Laser™
We use the WaterLase Express Laser to perform a variety of dental procedures, including periodontal and implant work, with accuracy and precision. This safe, advanced technology is a gentle and quiet alternative to the heat, vibration, and pressure of a dental drill. In addition, it is also minimally invasive. The laser assists with surgical therapies and eliminates the need for stitches, enhancing patient comfort and resulting in stress-free visits.
Digital Oral Scanner
Used to fabricate occlusal night guards and dental implant surgical guides to improve precision/accuracy.
Call us today to learn how our technology sets us apart from the rest.
Contact Us
Anxiety-Free Dentistry
If you haven't gotten the dental work you need because going to the dentist makes you nervous, you're not alone. Many people suffer from dental anxiety. Bay City periodontist Dr. Picard offers sedation options to help you feel comfortable and relaxed throughout your periodontal treatment.
Nitrous Oxide
Nitrous oxide, also known as laughing gas, is a gas that is inhaled through a mask over the nose. Nitrous oxide creates a sense of deep relaxation, so you'll be at ease during your periodontal procedure. Its effects are easily reversed at the end of your treatment by inhaling oxygen, allowing you to drive yourself comfortably and safely home if you desire.
Oral Conscious Sedation
Oral conscious sedation involves taking a pill that is carefully prescribed by Dr. Picard. Take the pill shortly before you appointment. By the time you're in the chair, you'll be completely relaxed and ready for treatment.
Most patients report little to no side effects from sedation, but if you will be receiving sedation, you will need a responsible party who can drive you home after your appointment.
Let us help you stay relaxed and get the care you need. Call us today to learn more!
Contact Us
Tour Our Office